Conduct Business Professionally, Ethically and Practically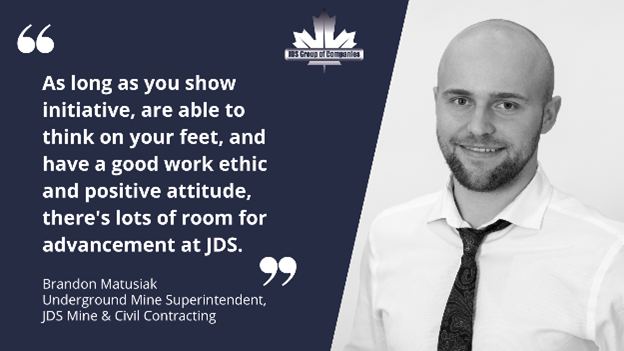 Working just below the Arctic Circle in the shadows of Yukon's Dawson Mountains sure sounds like an adventure. But for JDS Mine Superintendent Brandon Matusiak, it's just another day at the office.
"Some people pay good money to visit all the places I've worked," the 14-year mining veteran says. "From Guyana to Mexico to Alaska, I've been all over. I've worked in so many interesting places and with so many great people."
At the Aurora Mine in Guyana, Brandon was part of the underground development team that achieved ore production by collaring a portal and conducting the first longholeblasting in the country's history. At the Ana Paula mine in Guerrero, Mexico, he was involved in both the exploration program and underground mining services for approximately 2.3 km of exploration drift development.
"As long as you show initiative, are able to think on your feet, and have a good work ethic and positive attitude, there's lots of room for advancement at JDS," Brandon says.
His most memorable moment came when he was part of a consulting expedition to Alaska's remote Aleutian Islands. "Watching whales from a helicopter was just an awesome experience," he recalls.
Finding effective ways to do things differently is the most satisfying aspect of his role, Brandon says. "Communicating with the local people is so important at every project because you gain insights into what worked in the past and what didn't. In South America, there were constant supply chain issues. At Premier Gold Mine in Northwestern B.C., you get 60 feet of snow."
Other memorable experiences were much closer to home. "When you work for other contractors, you're just a name on a spreadsheet. With JDS, one minute you're flying over the Aleutian Islands in a helicopter, the next you're over at (Founder and CEO) Jeff Stibbard's house for the Super Bowl and chili."